The Washington DC Health Insurance Exchange announced last Friday which insurance carriers intend to offer policies through their health insurance marketplace. The DC Health Insurance Exchange has been closely watched because, by 2016, all individual and small group policies will be purchased only through the public exchange.*
DC Health Insurance Exchange Carriers Announced
According to the DC Health Benefit Exchange Authority:
Seven (7) health insurance carriers plan to offer 259 plans on the small group "SHOP" exchange.

Four (4) health insurance carriers plan to offer 34 plans on the individual exchange.
Insurers have until May 31, 2013 to submit their proposed rates with the Insurance Department. The DC Exchange will provide details on costs once health insurance policies and rates are approved. Many DC residents will be eligible for significant financial help in the form of federal tax credits to reduce the cost of insurance.
According to the DC Health Benefit Exchange Executive Director Mila Kofman in a recent press release: "This shows that insurance companies serving the District's insurance consumers are committed to offering good options for businesses and people here. I thank the insurance companies for their commitment to helping the District's Marketplace Exchange be successful. As a result, we will have a strong, competitive market where individuals and small businesses will have a wide variety of options when buying high-quality health insurance."
Here are the carriers that have filed intent with the DC Health Insurance Exchange: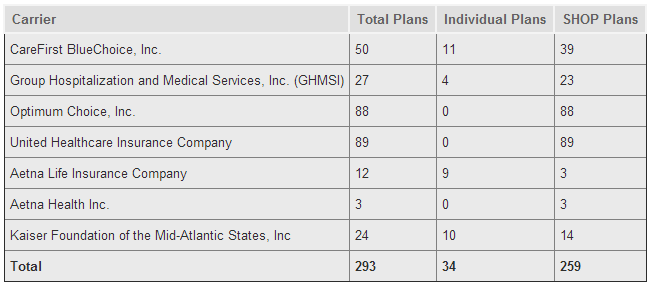 Click here for press release and chart source.
*Future of DC Individual and Small Group Private Insurance Markets?
As mentioned previously, DC has closed their private individual insurance market and private small group market (in a transitional effort by 2016). However, this decision has been strongly opposed by several business interests. The DC Council is expected to decide this week whether to require small businesses to purchase group health insurance plans through the public exchange as planned.