Starting in 2014, as part of the Affordable Care Act (ACA), health insurance coverage for individuals and small businesses will become available through new state health insurance exchanges. Most importantly, the key tax credits (e.g. the small business healthcare tax credits) and tax subsidies will only be available for coverage purchased via a state health insurance exchanges.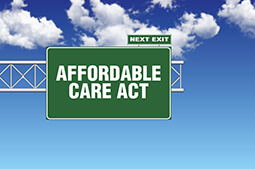 All states have three options for setting up a state health insurance exchange for 2014:
Build a State-Based Exchange

Enter into a State-Federal Partnership Exchange

Default to a Federally-Facilitated Exchange
Rhode Island will offer a state-based health insurance exchange that will open October 1, 2013 (for coverage starting January 1, 2014).
Rhode Island Health Insurance Exchange - What is it?
The Rhode Island Health Insurance Exchange, called Rhode Island Health Benefits Exchange, will aim to connect residents and small businesses to affordable health insurance. The Exchange will give individuals and small businesses online and in-person access to compare health insurance options and learn if they qualify for the tax credits/subsidies or public health insurance programs.
According to message from Governor Lincoln Chafee, "On behalf of employers, the Exchange will be actively negotiating with health insurance companies to develop new and innovative insurance products. In addition, it will offer easy comparisons, access to tax credits for qualifying businesses, as well as new ways to buy insurance that provide value to employers. The Health Benefits Exchange will push to make insurance choices clearer and costs more affordable and predictable" (view source here).
The Small Business Health Options Program ("SHOP" Exchange) will also be up and running for October, according to a statement by Exchange Executive Director Christie Ferguson in a recent Rhode Island Public Radio article. " 'SHOP is on schedule and we're going to have employee choice in Rhode Island. And we're going to be one of the only states in the country to do that for small businesses,' said Ferguson" (view source here).
There are approximately 100,900 uninsured Rhode Island non-elderly residents (12%). Of these, healthcare.gov estimates that 91,380 (91%) may qualify for either tax credits to purchase coverage in the Exchange or for Medicaid if Rhode Island participates in the Medicaid expansion.
The Exchange is currently building the online portal and has hired a vendor. The Exchange is scheduled to open to consumers October 1, 2013.
Rhode Island Health Insurance Exchange - How was it Formed?
After the Affordable Care Act passed in 2010, Rhode Island attempted to to pass exchange legislation in 2011 (SB 87). However, the legislation failed and in September 2011 Governor Lincoln Chafee signed Executive Order 11-09 to establish the Rhode Island Health Benefit Exchange. The Executive Order established the Exchange as "a Division within the Executive Department." It is the only state exchange in the US that was not established by legislation.
Rhode Island received conditional approval from the U.S. Department of Health and Human Services to establish a state-based exchange in December 2012.
Rhode Island Health Insurance Exchange - What Insurance Plans will be Available?
The plans offered through the Rhode Island Health Insurance Exchange will be Qualified Health Plans (QHPs) as defined by the Affordable Care Act, and will be offered in "metal" plans to compare cost and coverage.
The Governor's office provides an example of how much the policies will costs with the applicable tax credits. In their example, a 45-year old married with two kids, with an annual income of $46,850, would pay $246/month for a "silver" plan (where the plan pays 70%).

Rhode Island Health Insurance Exchange - Role of Insurance Professionals
At the time of writing, final details about the role of insurance professionals is not confirmed by the Exchange, including if/how brokers will receive commissions from the policies they sell through the Exchange. The Exchange Executive Order created the "Expert Advisory Committee to the Health Benefits Exchange Board" to ensure the voice of insurance brokers insurers and medical providers in the Exchange planning process. In meeting minutes from July 31, 2012, the committee discussed the options the Exchange was considering for for broker commissions including whether the Exchange would facilitate commissions, or whether the carriers would pay brokers directly.
To sell Exchange policies, brokers will need to register with the exchange and receive training (note: this is a different role than acting as a Navigator). More guidance and information on commissions, training and registration is expected later this summer.