Stand-alone Health Reimbursement Arrangement (HRA) Plans provide small businesses a way to offer employees excellent health benefits without the cost or complication of group health insurance. In this article we'll explore where we've been historically with small business health insurance options, and how stand-alone HRA Plans provide a solution.
The Past: Group Health Insurance Plans
In the past, businesses have always relied on group health insurance to offer employee health benefits. However, continual increases in health care costs have adversely impacted most businesses' ability to provide health benefits.
Smaller employers and non-profits have been particularly hurt, and many have dropped group health plans completely because they have become too expensive or do not meet participation requirements. Mid-size businesses have coped with rising costs by shifting more of the burden to their employees and their dependents.
For example, here's a look at the increase of employer-sponsored health insurance from 1999-2012: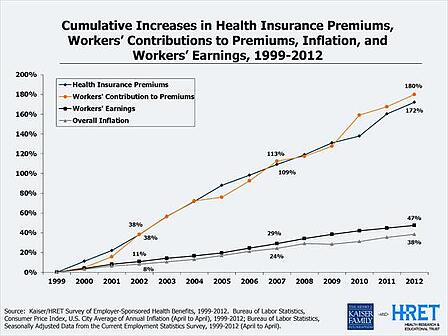 To summarize the problem, businesses want to provide quality health benefits for their valued employees. But for a small business, a traditional group health plan may not be cost effective for the employees or the business.
The Solution: Stand-Alone HRA Plans
As a result, educated businesses are switching to stand-alone HRA Plans to offer flexible, cost-effective and sustainable employee health benefits. Stand-alone HRA Plans are also referred to as defined contribution health plans.
Rather than paying the costs to provide a specific group health plan, employers can fix their costs on a monthly basis by establishing a stand-alone HRA Plan. The general concept of a stand-alone HRA Plan is that your business would:
Cancel your group health insurance plan (if you have one)

Define any amount you can afford for health benefits

Use HRA Software to give each employee a fixed dollar amount to use on medical expenses

Employees purchase their own individual/family policies, and choose how to spend their healthcare allowance. And, the business selects any insurance professional to give employees a resource in selecting a plan.
A stand-alone HRA Plan is an affordable alternative to an employer-sponsored group health insurance plan. HRAs by themselves are not health insurance plans.
Stand-Alone HRA Plans & Employer Choice
A stand-alone HRA Plan gives the small business complete control of the cost and design of the benefit, allowing a small business to meet their financial and health benefit goals. With a stand-alone HRA, the business decides:
Amount of HRA allowances, and the ability to design different allowance amounts by class of employee (ex: $250/month for managers and $125 for entry-level staff)

What happens to unused balances at the end of the year (ex: full balance rollover or "use it or lose it")

What types of medical expenses to reimburse (ex: all expenses allowed by the IRS, including individual health insurance premiums, or a limited number of categories)

Who is covered (ex: employee and dependents, or just employee)

Employee eligibility criteria (ex: a waiting period for new hires, or eligibility based on hours worked)

Employee cost-sharing options (ex: an HRA co-insurance or HRA deductible)
Stand-Alone HRA Plans vs. Integrated HRA Plans
Generally speaking, there are two primary ways an HRA Plan can be structured, and it's important to distinguish between the two types: Stand-Alone HRAs vs. Integrated HRAs.
Stand-Alone HRA Plan: A stand-alone HRA Plan is not linked to a group health insurance plan; rather the stand-alone HRA Plan is the entire health benefits plan. Stand-alone HRA Plans can reimburse for individual health insurance premiums, as well as other eligible out-of-pocket medical expenses.

Integrated HRA Plan: The more commonly-known type of HRA Plan is one that is integrated with a group health insurance plan. The integrated HRA Plan is offered only to those who take the group health plan and is used to reimburse employees for out-of-pocket medical expenses only (not health insurance premiums).
Editor's Note - This article was written in April 2013. Since the time of writing, the Affordable Care Act has changed how stand-alone HRAs may be used for most employers. See: HRAs in 2015 - What All Employers Need to Know.