Employer-sponsored health insurance "eroded substantially" from 1999 to 2011. These are the findings published yesterday in a report by Robert Wood Johnson Foundation. According to the release, the analysis provides a baseline to measure the impacts of the Affordable Care Act expansions of public and private coverage in 2014.
Employer-Sponsored Health Insurance Declining in All Areas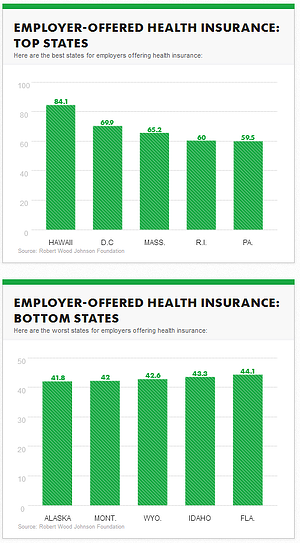 Key findings over the study period (1999-2011) include:
The percentage of people with employer-sponsored insurance declined 10%; from 70% in 2009 to 60% in 2011.
While most states saw "significant declines" in employer-sponsored coverage, the range was wide from Hawaii (84% coverage) to Alaska (42% coverage). See charts to the right from USA Today's coverage of this study.

Employer-sponsored coverage varied by income. It fell less (3 percentage points) for high-income groups (defined as 400% of FPL or above) than for those with lower incomes (200 FPL or below) where the fall was 10 percentage points.

Nationally, the percentage of private-sector companies offering employer-sponsored insurance fell from 59% to 52% (although the percentage of workers eligible for coverage at firms that offered insurance held steady). The take-up rate also fell from 82% to 76%.

Individual premium costs doubled ($2,490 to $5,081 annually); family premiums rose 125% ($6,415 to $14,447 annually); employee contributions increased (17% to 20% of the total premium).
Trends Due to Health Care Reform?
The study found that no, employer-sponsored health insurance was already steadily declining nationwide before the Affordable Care Act was signed in 2010.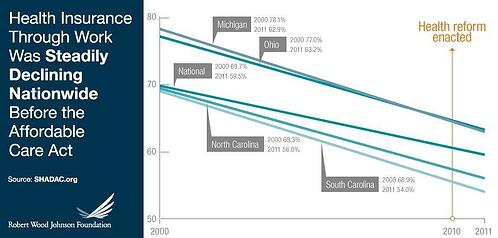 "This documents that in virtually every state across the country, there has been a steady decline in employers that provide coverage over the past 10 years," said Andrew Hyman, director of the Robert Wood Johnson Foundation's health care coverage team, in a USA today article. "It would be a real stretch to say this was caused by anticipation of the Affordable Care Act," President Obama's 2010 health care law.