According to a new survey released by Gallup, fewer Americans reported having employer-based health insurance in 2012 than did in 2008, 2009, and 2010, but at 44.5% it is unchanged from 2011. At the same time, more Americans continue to report having a government-based health plan -- Medicare, Medicaid, or military or veterans' benefits -- with the 25.6% who did so in 2012 up from 23.4% in 2008.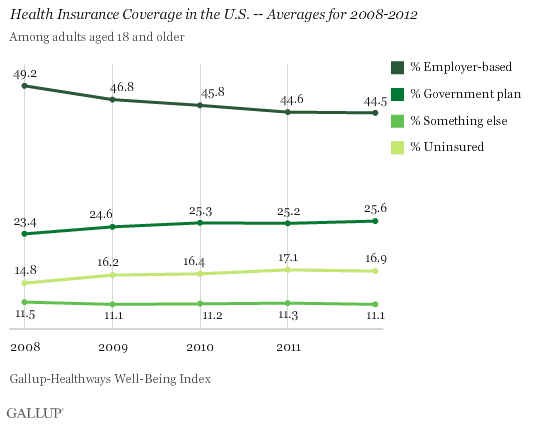 High unemployment is partly to blame for the decrease in employer-based health insurance. The decline may also be due to fewer employers offering insurance or due to employees opting to not take their employers' plan due to rising health insurance costs for employees.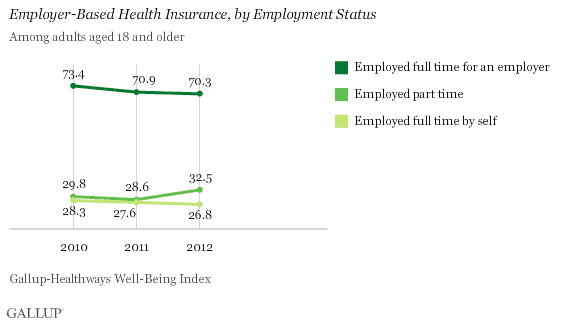 The majority of workers who do not have a government job continue to get their health insurance from their employer. But the 56.8% who did so in 2012 is down from a high of 64.2% in 2008. More non-government workers now get their insurance from a government plan or are uninsured than were in 2008.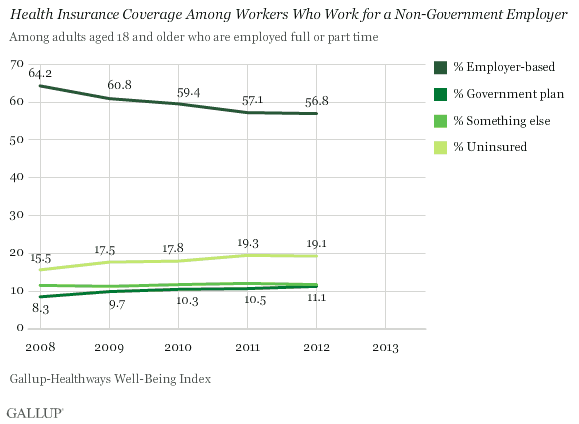 Employer-Based Insurance Rates Vary by Income, Race, and Age
High-income Americans are the most likely to get their health insurance from an employer, while low-income Americans are among the least likely -- 69.2% vs. 22.7%.
Employer-based health insurance coverage rates have dropped among all major subgroups since 2008.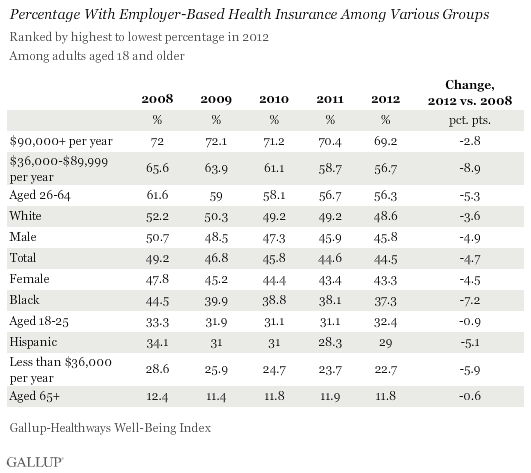 Over the past year, young adults aged 18 to 25 are the only subgroup to register a significant increase in employer-based insurance, likely because those in this age group are now eligible to stay on their parents' plans due to the Affordable Care Act.
Survey Methodology
Results are based on telephone interviews conducted as part of the Gallup-Healthways Well-Being Index survey Jan. 1-Dec. 31, 2012, with a random sample of 353,563 adults, aged 18 and older, living in all 50 U.S. states and the District of Columbia, selected using random-digit-dial sampling.
For results based on the total sample of national adults, one can say with 95% confidence that the maximum margin of sampling error is ±0.2 percentage point.
For results based on subgroups, one can say with 95% confidence that the maximum margin of sampling error is ±1 percentage point.
Interviews are conducted with respondents on landline telephones and cellular phones, with interviews conducted in Spanish for respondents who are primarily Spanish-speaking. Each sample includes a minimum quota of 400 cellphone respondents and 600 landline respondents per 1,000 national adults, with additional minimum quotas among landline respondents by region. Landline telephone numbers are chosen at random among listed telephone numbers. Cellphone numbers are selected using random-digit-dial methods. Landline respondents are chosen at random within each household on the basis of which member had the most recent birthday.
Samples are weighted by gender, age, race, Hispanic ethnicity, education, region, adults in the household, and phone status (cell phone only/landline only/both, cell phone mostly, and having an unlisted landline number). Demographic weighting targets are based on the March 2011 Current Population Survey figures for the aged 18 and older non-institutionalized population living in U.S. telephone households. All reported margins of sampling error include the computed design effects for weighting and sample design.
In addition to sampling error, question wording and practical difficulties in conducting surveys can introduce error or bias into the findings of public opinion polls.
For more details on Gallup's polling methodology, visit www.gallup.com