On Friday, the administration announced it would stop allowing new enrollees in the Pre-Existing Condition Insurance Plan (PCIP). Beginning February 16, 2013, the federally-run PCIP is suspending acceptance of new enrollment applications until further notice. PCIP will continue providing coverage to more than 100,000 people currently enrolled nationwide.
What is PCIP?
PCIP was established in 2010 under the Affordable Care Act (ACA) to provide coverage for uninsured people unable to find health insurance coverage in the private insurance market. The program was designed as a bridge to January 1, 2014, when the new health insurance marketplaces take effect.
To qualify, people applying for the Pre-Existing Condition Insurance Plan (PCIP) must:
Have been without health coverage for at least six months,

Have a pre-existing condition or have been denied health coverage because of a health condition, and

Have U.S. citizenship or legally reside in the U.S.
Eligibility is not based on income and people who enroll are not charged a higher premium
because of their medical condition. The law appropriated $5 billion for the payment of claims
and administrative expenses in excess of the premiums collected from people enrolled in the
program.
Why is PCIP enrollment being suspended?
It appears PCIP enrollment is being suspended due to lack of sufficient funding. As PCIP is was intended to be a temporary program for those locked out of the "old" insurance marketplace, the program was given a limited amount of funding ($5 billion) from Congress.
According to a notice on PCIP.gov, the suspension will help ensure that funds are available through 2013 to continuously cover people currently enrolled in PCIP.
How many people are enrolled in PCIP?
While less than originally projected, PCIP has experienced significant, sustained growth since
the program launched in 2010. The below image represents the number of people enrolled in state-based PCIPs and the federally-administered PCIP since the program began.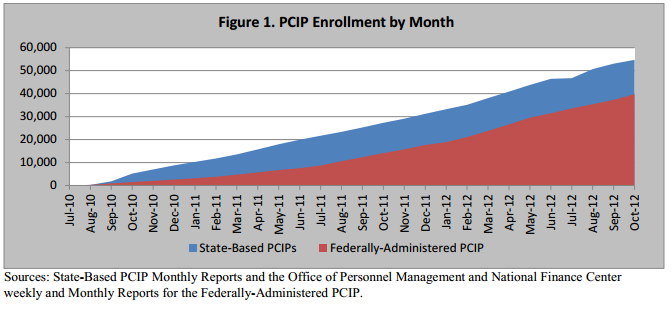 PCIP monthly enrollment will exceed 100,000 by early 2013. During the months of July 2012 through October 2012, the PCIP program received approximately 10,000 new applications every month, a 30 percent increase from the same time period in the previous year.
As the image below demonstrates, the program continues to experience increasing monthly costs as enrollment continues to grow. From May 2012 until October 2012, combined federal and state expenditures averaged $160 million per month.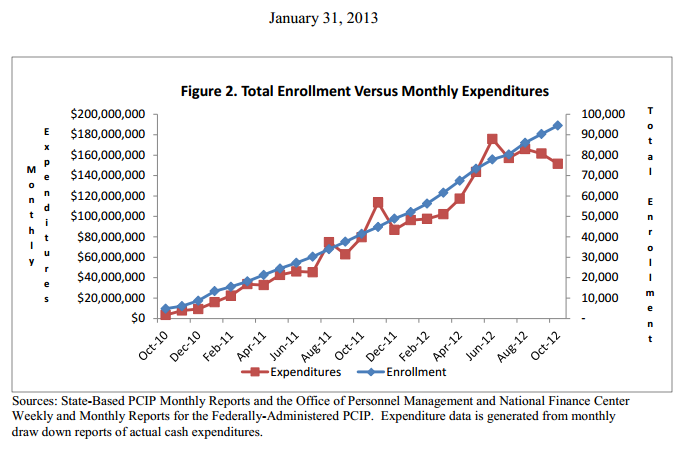 How much does PCIP cost the federal government?
Many PCIP enrollees have serious health conditions that require immediate and ongoing medical treatment. In the federally-administered PCIP, the top four diagnoses or procedures by cost vary by state, but typically include:
Cancers,

Ischemic heart disease,

Degenerative bone diseases, and

The follow-up medical care required after major surgery or cancer treatments.
Claims paid for these four diagnostic categories constituted over 36 percent of benefits paid in 2012.
In 2012, PCIP served:
4,997 enrollees with heart disease, including 694 enrollees diagnosed with heart failure.

2,200 people suffering from cancer, including nearly 1,000 of whom had a diagnosis of breast cancer.
The image below shows the distribution of claims paid by the type of care for PCIP enrollees in the federally-administered PCIP.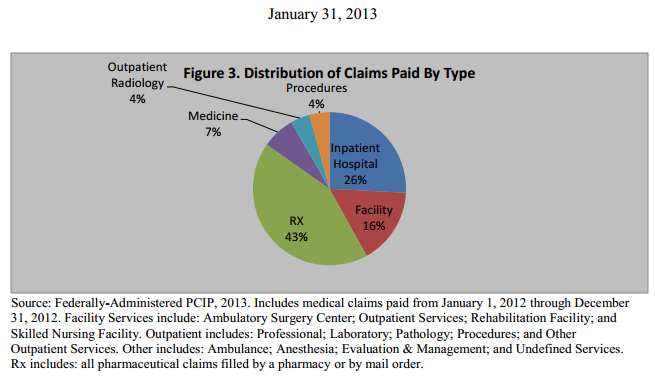 Here are some other additional funding statistics from PCIP:
In 2012, the average annual claims cost per enrollee was $32,108.

Costs varied across states from a low of $4,276 per enrollee to a high of $171,909, with a median of $30,953.

4.4 percent of PCIP enrollees accounted for over 50 percent of claims paid.
More information can be found in the Annual Report on the Implementation and Operation of the PCIP Program.