According to a recent online survey by TD Ameritrade, taxpayers want the government to focus on health care. According to the survey results, if Americans could choose how the U.S. government spends their tax dollars, they'd designate affordable health care (38%) and job creation (36%) as top priorities.
Here's an infographic summarizing the survey results: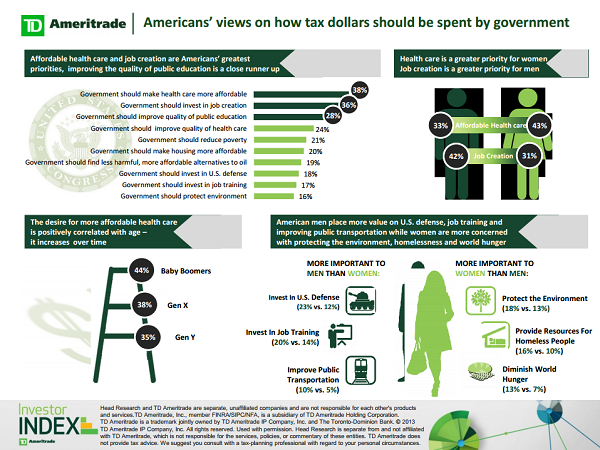 Click here to download a PDF version.
According to the Department of Labor, women make approximately 80 percent of the health care decisions for their families. Although men and women were relatively aligned on how government should spend the money it gets from taxes, here were the key differences:
more men said job creation should be the top priority (42% vs. 31% for women).

more women feel affordable health care should be the top focus (43% vs. 33% for men).

men were more likely to favor expenditures on defense (23% vs. 12% for women) and job training (20% vs. 14% for women).

more women want tax dollars used to protect the environment (18% vs. 13% for men), resources for homeless people (16% vs. 10% for men) and alleviating world hunger (13% vs. 7%).
For more information on the surveys, visit the TD Ameritrade Newsroom.