A recent study by LIMRA found that only 47 percent of small businesses with 2-99 employees in the United States offer benefits to their employees. According to the U.S. Census Bureau, 98 percent of businesses in the U.S. have fewer than 100 employees, accounting for approximately 35 percent of the U.S. workforce.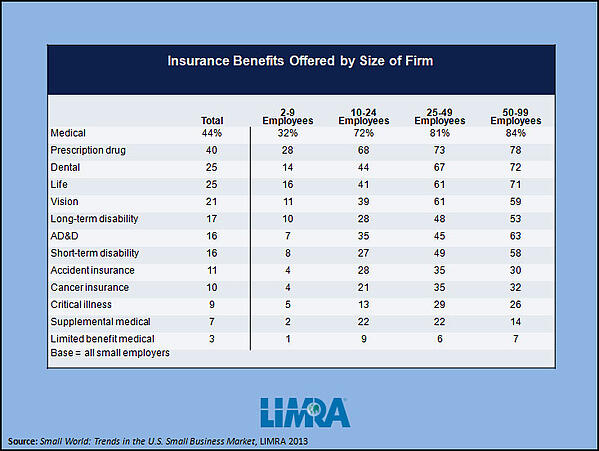 Additional Findings From the Study
LIMRA's study found that:
78 percent of small businesses in the U.S. are family-owned.
Family-owned firms experienced a sharper decline in benefit penetration between 2005 and 2012 than non-family-owned firms, with only 40 percent of these businesses offering insurance benefits in 2012 (compared with 47% in 2005).

One quarter of small businesses are female-owned.

Female-owned firms tend to be smaller, produce lower revenue than male-owned firms, and are less likely to offer insurance benefits (37 percent vs. 50 percent of male-owned small businesses).

Among those small businesses that do offer insurance benefits to their employees, medical and prescription drug plans are by far the most popular, and tend to be the first benefits that companies bring on board.

Dental and vision coverage to be common offerings among small businesses, as these products tend to be very popular with employees.

Life insurance is frequently offered by small firms, whose preference for this benefit is most likely associated with its low cost and ease of administration.

Products such as long-term disability, short-term disability, and accident insurance have fairly low penetration rates among small businesses.
Study Methodology
In February through March 2012, LIMRA conducted a telephone survey of 754 private small businesses in the United States with 1-99 employees (including the owner) that had been in business for at least one year. Respondents were the individuals that made or shared in the firms' decisions concerning business insurance and/or employee benefits. The sample was weighted by company size, industry, and region to be representative of the total population of U.S. small businesses, based on data from the U.S. Census Bureau.
What is LIMRA?
LIMRA is a worldwide research, consulting and professional development organization helping more than 850 insurance and financial services companies in 73 countries increase their marketing and distribution effectiveness.
Click here to read more about the study.