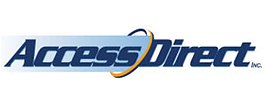 Business Info:
AccessDirect is located in Overland Park, Kansas with 6 employees. The company provides small businesses with virtual pbx phone systems that include: auto attendant, call routing, multiple extensions, voicemail to email, text message notification and more. Using cutting-edge technology, AccessDirect serves all business industries at a fraction of traditional costs.
Website:
Industry:
Small Business Telecommunications
Contact Name:
John Kinskey, President
The Challenge:
AccessDirect had been unable to offer company health benefits to its employees due to high group healthcare costs that exceeded yearly budgets. To continue recruiting top talent, AccessDirect needed a health care solution that was portable for the employees and tax deductible for the business.
The Solution:
In December 2007, AccessDirect partnered with Zane Benefits to offer their employees a new Defined Contribution ZaneHealth plan. Access Direct now offers its employees a monthly "defined contribution" that employees choose how to spend. Employees use these tax-free funds to purchase individual health insurance plans that best fit their needs.
President John Kinksey stated, "Zane Benefits is an extremely cost effective service for a small business. Online administration could not be easier for the business owner and employees. Getting started was easy and then it is basically on auto pilot. Zane covers all the bases with documents, legalities, and administration. For occasional questions live phone support is always available. Zane makes administering a Healthcare Reimbursement program smooth and trouble free. We could not be happier with choosing Zane Benefits."
Measurable Results:
For the first time, AccessDirect can offer health benefits to its employees.

Employees have the freedom to use their defined contribution allowance to cover health insurance premiums that best fit their families' needs.