Health Care News You Can't Miss...
5 Key Reform Questions for Brokers, Health Plans, and Businesses
U.S. businesses have traditionally paid premiums to insurance companies to cover workers with a single "defined benefit" group health insurance plan. However, due to changes in the individual market, most of these businesses will consider switching to a "defined contribution" health benefits program, where employers give workers a monthly allowance to purchase their own "individualized" coverage through a private or public health insurance exchange.
Click here to read the full article.
Zane Product Updates, Content and Training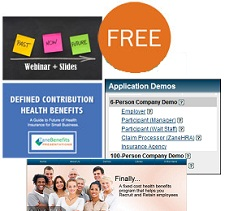 Free Training Kit on Defined Contribution Health Benefits
Zane Benefits today announced the publication of a free kit named "Defined Contribution Health Benefits Training Kit for Insurance Professionals and CPAs" to provide insurance and accounting professionals with free training on defined contribution solutions.
Click here to access the free training kit.
Affiliate Training Webinars Now On-Demand
Businesses should establish defined contribution amounts without regard to employees' actual individual insurance costs.
- The Zane Benefits Team
P.S. You should follow us on Twitter, Facebook, LinkedIn and Google+