Deloitte

recently released survey results that predict one in ten businesses in the US will drop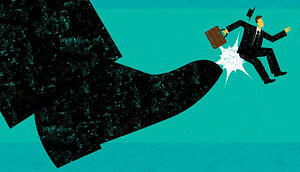 health coverage for their employees over the next few years, and that even more will in the future. Many of those businesses are expected to establish defined contribution health plans.
Why Businesses Offer Health Insurance Today
Today, more than 160 million Americans get their health care through an employer. The primary reason businesses offer health insurance is for recruiting and retention purposes. That is, health insurance is a valuable form of compensation because:
It is tax deductible to the business
Employees get the benefit 100% tax-free
Individual health insurance is not guaranteed-issue in most states
Tomorrow, that may no longer be the case.
Why Businesses Won't Offer Health Insurance Tomorrow
Starting in 2014, health reform will give Americans more options for buying coverage without the help of an employer via public health insurance exchanges. And, businesses can use Section 105 Healthcare Reimbursement Plans, or HRPs, to reimburse those health insurance premiums tax-free. Specifically:
HRP reimbursements will be tax deductible to the company
Employees will get the HRP benefit 100% tax-free
Individual health insurance will be guaranteed-issue in all states
The kicker - Most individuals will be eligible for federal subsidies on the individual health policies
Studies Continue to Predict Businesses Will Drop Coverage
Last year, McKinsey & Co. found 30% of employers say they would "definitely or probably" stop offering health insurance after 2014.
The recent Deloitte survey included 560 randomly selected employers with 50 or more workers that were offering health benefits. In all, 9% of companies in the Deloitte study said they expected to stop offering insurance in the next one to three years and 33% said they could decide to stop offering health coverage if:
The law requires them to provide more generous benefits than they do at the moment,

If a tax on high-cost plans takes effect in 2018, or

If they conclude that the cost of penalties for not providing insurance could be less expensive than paying for benefits.
One popular idea is to introduce defined contribution plans that give workers a fixed amount of money, like a 401(k) for health benefits, to allow them to buy their own insurance via a health insurance exchange.
Interesting Stats from the

Deloitte

Survey
Here are some additional stats from the

Deloitte

survey:
Companies will less than 50 employees were not surveyed.

2% of companies with more than 1,000 workers said they were considering dropping coverage.

Companies with 50 to 100 workers were most likely to say they would drop coverage, with 13% of them saying they expected to do so in the next one to three years.

Among the largest companies, one in five said they had shifted to paying only a set amount (i.e. a "defined contribution") toward insurance.

The majority of employers said they will shift more of the costs of insurance onto their employees by raising co-pays, deductibles and premiums.