According to a recent report by Kaiser Family Foundation, $12.1 billion has been funded to governmental and private entities for health care reform. The following is an overview of how that funding has been proportioned: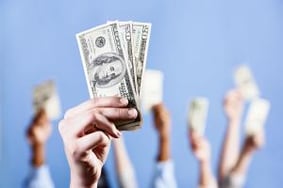 States with Most Funding forHealth Care Reform
California - $1.143B

New York - $899M

Michigan - $815M

Texas - $743M

New Jersey - $661M
States with least Funding for Health Care Reform
North Dakota - $22M

Wyoming - $22M

South Dakota - $25M

Vermont - $49M

New Hampshire - $50M
Private Vs. Governmental Funding for Health Care Reform
The report cites that private entities have been provided with 67% ($8.1B) of available dollars while governments (state and local) have been provided with 33% ($4B). Distribution between private and government funding, however, was not found to be consistent by state.
How Health Care Reform has Been Funded to Date
The highest percentage (47%) of funding for health care reform has come from new employer programs and tax credits such as the Early Retiree Reinsurance Program (ERRP). Private Insurance and Exchange (22%) and Medicaid and Medicare (8%) were the second and third largest sources of funding for health care reform, respectively.
Click here to read the Kaiser report.
An online interactive Federal Funds Tracker is also available.