The latest ACA health insurance exchange ("Marketplace") numbers are in. The administration reported this week that approximately 4 million Americans have signed up for coverage through the new "ObamaCare" health insurance exchanges.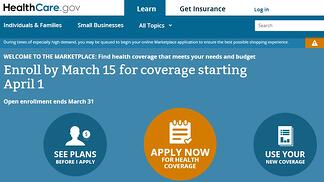 Earlier this month, the administration reported that 3.3 million signed up through the end of January, meaning February saw enrollment numbers of about 700,000.
The most recent enrollment numbers were announced by Marilyn Tavenner, Administrator of Centers for Medicare & Medicaid Services (CMS). "The most recent data indicate that approximately 4 million people have now signed up for a private health insurance plan through the Federal and State-based Marketplaces since October 1. A full enrollment report for February will be released in mid-March."
The enrollment announcement comes as the administration pushes aggressive outreach and media efforts to reach their revised 6 million enrollment target by the end of the open enrollment period (March 31, 2014).
Do you think 6 million people will have enrolled in ObamaCare coverage by the end of March?
See related news coverage:
Image credit: healthcare.gov