The Obama administration announced yesterday that 8 million Americans enrolled in coverage through the Affordable Care Act (ACA) individual health insurance marketplaces. Another 3 million Americans have signed up for Medicaid, while 5 million have signed up for non-exchange health plans.
A Look at the Latest ACA Enrollment Numbers
According to the administration's news release:
8 million people have signed up for coverage in the individual health insurance marketplace.

For states using the federally-run exchange (HealthCare.gov), 35% of those who signed up are under 35 years old and 28% are between 18 and 34 years old.


3 million more people were enrolled in Medicaid and CHIP as of February, compared to before the Marketplaces opened. Medicaid and CHIP enrollment continues year-round.

5 million people are enrolled in plans that meet ACA standards outside the Marketplace, according to a CBO estimate. When insurers set premiums for next year, they are required to look at everyone who enrolled in plans that meet ACA standards, both on and off the Marketplace.

The Cost of Health Care under the ACA
The administration's release also addressed the cost of health care under the ACA. According to the administration:
Growth in health care costs are slowing: Since the law passed, real per capita health care spending is estimated to have grown at the lowest rate on record for any three-year period and less than one-third the long-term historical average stretching back to 1960. This slower growth in spending is reflected in Medicare, Medicaid, and private insurance.

CBO projects the deficit will shrink more and premiums will be lower than expected: CBO previously estimated that the ACA will reduce the deficit by $1.7 trillion over two decades. Just this week, CBO concluded that lower-than-expected Marketplace premiums and other recent developments will cut $104 billion from our deficit over the next ten years. The CBO report also projects that lower-than-expected premiums will help to save $5 billion this year, and that lower premiums will persist in the years ahead, remaining 15% below projections by 2016.

Medicare spending growth is down: Medicare per capita spending is growing at historically low rates.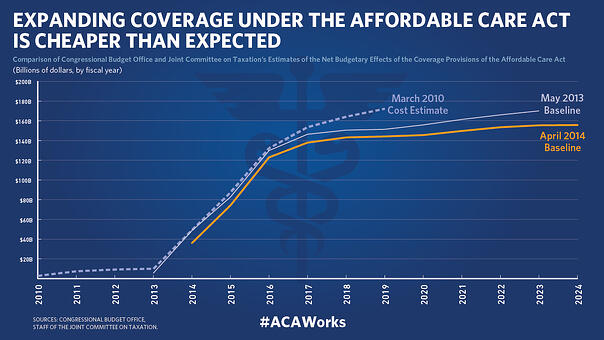 Chart source: WhiteHouse.gov
The Obama administration reports good news, but that's not to say it is warming the public or political attitude toward the president's health reform law.
For example, one recent poll found the last big ACA enrollment announcement had little impact on the public's overall opinion on the law. And, political opponents to the ACA are still lobbying hard to fix or repeal Obama's health reform law.
What do you think of the latest enrollment announcement? Leave a comment.