As more and more companies transition employees from group health insurance coverage to individual health insurance ("personal health insurance"), employees may have questions about how personal health insurance works.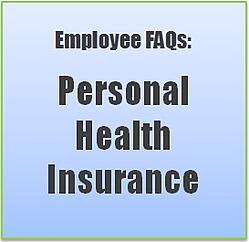 5 Employee FAQs about Personal Health Insurance
1. What is personal health insurance?
A personal health plan is a type of policy that an employee purchases for himself and/or his family - just like car insurance. Employees own the policy and can take it with them if they leave the company. Employees pay for their policy with their own money. If the company offers a defined contribution health plan, employees can be reimbursed for the premium (or a portion of the premium).
2. How do you purchase a personal health insurance policy?
Buying a personal health insurance policy has never been easier. Employees can purchase insurance through a licensed health insurance agent (who is appointed to represent the insurance carriers), online, or through their state's Health Insurance Marketplace.
There are four easy steps for employees to follow:
Contact a health insurance agent, and/or go to your state's Health Insurance Marketplace (ex: healthcare.gov)
Fill out an application online or by paper. You'll need basic personal information. You'll also need financial information, if you want to receive premium subsidies.
Select a plan. The website will display all available plan options within metallic tiers. Displayed cost will factor in any premium subsidies.
Pay your portion of premium (i.e. the total premium minus your premium subsidy).
See this infographic on how to buy personal health insurance.
3. What if I have a medical condition, or have been denied coverage in the past?
If an employee has a medical condition, or have been denied coverage in the past, they can now purchase a personal health insurance policy at the same price as a healthy peer. Employees are no longer asked medical history information on the application, and cannot be denied or charged more because of a pre-existing condition.
4. Which policy should I choose?
In the past, it's been hard to understand the coverage of plans. That's no longer the case. When employees shop for a plan, they are organized into four standard categories of coverage: platinum, gold, silver, and bronze. Some employees may also be able to buy a catastrophic plan.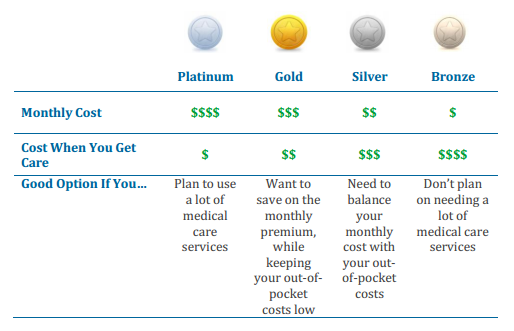 Read more: Which Individual Health Insurance Plan Should I Choose?
5. How much do personal health insurance policies cost?
What employees pay for insurance depends on a few factors:
Location (state/county)
Age
Type of health plan selected (the coverage level, carrier, etc.)
Tobacco use
Income (eligibility for the health insurance tax subsidies is based on household income; single employees earning up to ~$46,000/year in 2014 are eligible for a discount)
Read more: How Much Does Individual Health Insurance Cost in 2014?
What questions about personal health insurance do your employees or clients have?