With open enrollment for individual health insurance now officially less than a month away, many consumers are thinking about or re-thinking their health insurance options. Here are a few things you need to know before open enrollment gets here to ensure you get the best deal possible on your health insurance policy.
1. The Penalty for Not Having Health Insurance Coverage Will Go up in 2015
The main purpose of the Affordable Care Act (ACA) was to make sure that as many people as possible are covered under health insurance. The more insured Americans, the larger the risk pool of insured consumers.
Under the ACA, most Americans are required to have health insurance, or pay a tax penalty if they don't. This rule is called the "Individual Mandate" or "Individual Shared Responsibility Fee" and started in 2014. Coverage can include job-based health insurance, individual health insurance, or insurance through a government program such as Medicaid or Medicare.
The penalty for not having "minimum essential coverage" is called the "individual shared responsibility fee." This fee is either a flat fee or a percentage of household income, whichever is greater. The penalty increases over the first three years. As you can see from the chart below, the fee will increase from a $95 flat fee for an individual to a $325 flat fee for an individual. The flat fee for a family will increase from $285 to a whopping $975. If the percentage of family income is greater than the flat fee, the rate will increase from one percent to two percent this year.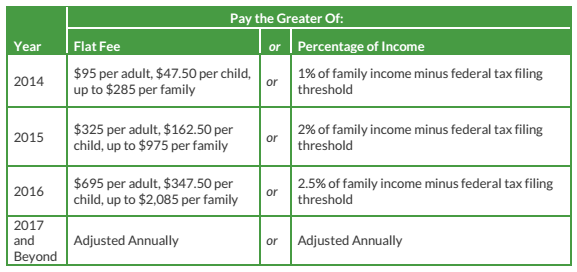 While this increase may not get everyone to enroll in health insurance coverage, the increased penalty is expected to encourage more consumers to participate during open enrollment 2015.
Click here for more information on the penalty and exemptions.
2. If You Enrolled Last Year, You're Not Stuck with Your Coverage
For the most part, Marketplace consumers who do not indicate otherwise will be re-enrolled in their current Marketplace plan on December 15, 2014. This delay in re-enrollment will give consumers additional time during open enrollment 2015 to explore their health insurance options.
If you have already purchased a Marketplace policy, weigh all your options before you allow your policy to auto-enroll. This is vital to ensure that you are getting the best deal on health insurance.
Since there are many more insurance providers in the Marketplace this year, the increased competition among carriers will help to keep rates down in 2015. Last year's low-cost plans may not be the same as this year's. It is vital to make sure that your current plan is still the best deal for you.
In addition, now is a good time to re-evaluate your health needs. If your health has changed since last year, you may want to enroll in a more comprehensive health insurance plan to minimize out-of-pocket costs.
3. Factor Your Healthcare Needs into Your Policy Choice
In order to get the best deal during open enrollment, it is important to select the right metallic tier for your health and financial needs. If you are unsure of what plan to select, it is always a good idea to talk to an insurance broker to help you with your selection.
If you anticipate using a lot of medical services, it is more ideal to select a platinum or gold plan. Although the premiums higher, you will pay less out-of-pocket when it comes time to receive medical care.
If you do not anticipate having a lot of healthcare needs, selecting a silver or bronze plan is more ideal to save money. Although there will be higher out-of-pocket costs when you do need medical services, you will pay a significantly lower premium.