Every quarter The Manpower Employment Survey, one of the most trusted surveys of employment activity in the world, asks more than 18,000 hiring managers about their hiring plans for the next three months. This helps identify the strongest and weakest industries for hiring, the best metropolitan areas to pursue jobs, and determine what kind of talent managers are searching for. Let's take a look at hiring trends for 2015 so far.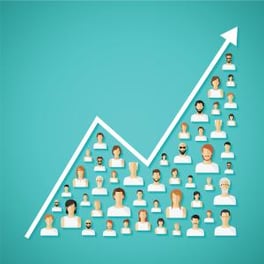 Among U.S. employers surveyed, 22 percent expect to add to their workforces, and 4 percent expect a decline in their labor pool during Quarter 2 this year. Seventy-two percent expect to make no changes to their staff, and the remaining 2 percent of employers are undecided about their hiring plans in Quarter 2.
For the purposes of this survey, 13 industry sectors were included: Leisure & Hospitality, Wholesale & Retails Trade, Professional & Business Services, Transportation & Utilities, Construction, Durable Good Manufacturing, Financial activities, Education & Health Services, Government, Nondurable Goods Manufacturing, Other Services, and Mining. Of all these industries, employers in the Education & Health Services and Financial Activities and Information sectors anticipate a slightly higher increase in hiring rates than the other industries.
Jobs Outlook By State
Midwest - 22 percent of employers surveyed anticipate increasing staff levels for Quarter 2, and 4 percent of expect reduced headcounts, leading to a Net Employment Outlook of +18%. In this portion of the country, hiring plans are stronger in the Financial Activities sector, who expect a surge in staffing, and in the Professional & Business Services sector, where a slight uptick is expected. Hiring plans contracted slightly in the Construction, Durable and Nondurable Goods Manufacturing sectors, while a moderate decrease in job prospects is projected in the Leisure & Hospitality sector.
Northeast - 20 percent of employers plan to increase staff, while 4 percent expect to decrease payrolls, resulting in a Net Employment Outlook of +16% for Quarter 2. In this region, employers anticipate hiring to remain stable, in comparison to Quarter 1.
South - region of the U.S., 21 percent of employers expect to increase their staff levels and 4 percent plan to decrease employee headcount, resulting in a Net Employment Outlook of +17%. Quarter over quarter, employers in the Southern United States report a slight increase in hiring expectations quarter over quarter in the Durable Goods Manufacturing and Transportation & Utilities sectors. The remaining industries are expected to remain relatively stable in their hiring expectations.
West - 23 percent anticipate adding staff, and 3 percent expect a decline in payrolls, resulting in a Net Employment Outlook of +20% for Quarter 2 2015. According to seasonally adjusted survey results, employers in the West anticipate stable hiring compared to Quarter 1 2015 and a moderate increase compared to one year ago at this time. Hiring plans in the West are significantly stronger for Quarter 2, compared to Quarter 1, particularly in the Construction, Leisure & Hospitality, Other Services and Wholesale & Retail Trade sectors.
A Global Outlook
ManpowerGroup interviewed over 65,000 employers across 42 countries and territories to forecast labor market activity* in Quarter 2 2015. The survey shows that employers in 40 of 42 countries anticipate adding employees to their payrolls during the April - June time frame. While this is optimistic for the hiring market, there are few signs that the labor markets are gaining real momentum. For example, hiring rates are declining in China, and Brazil is expecting considerable dips in employment this year compared to last.
Infographic - Where Are The Jobs?
Disclaimer: The views represented in this infographic does not necessarily reflect the views of Zane Benefits, its staff, or its affiliate partners.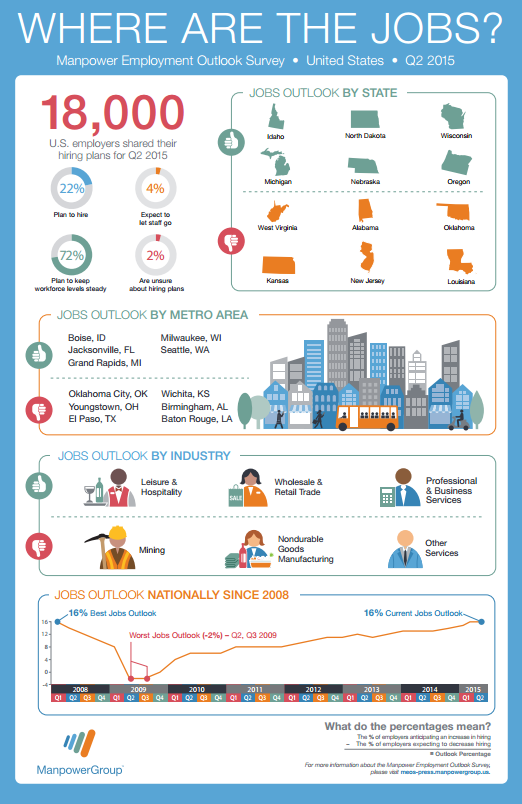 Conclusion
According to the survey, the hiring forecast from a national perspective is more positive than it's been since Quarter 1, 2008. The worst job outlook over the past seven years was Quarters 2 and 3 of 2009, dropping to -2%. However, working gains are predicted in 23 of 24 countries in the Europe, Middle East & Africa (EMEA) region, with only employers in Italy anticipating payroll declines over the next three months. Hiring is expected to increase in all eight Asia Pacific countries, with Taiwan reporting the most optimistic forecast across the globe for the sixth time in the last three years.
Tell us what you think of Quarter 2 hiring trends for 2015!