Open enrollment for the Health Insurance Exchanges ("Marketplaces") closed last spring, but since then nearly 1 million Americans have acquired coverage or modified their plans through special enrollment periods.
The Affordable Care Act sets new annual open enrollment periods for individual health insurance, but allows people to gain or modify coverage if they incur certain life events, like loss of job-based coverage, a move, a birth, a marriage, or a divorce. The number of people who signed up for coverage on the federal Marketplace since the closing of the first open enrollment period? 960,000.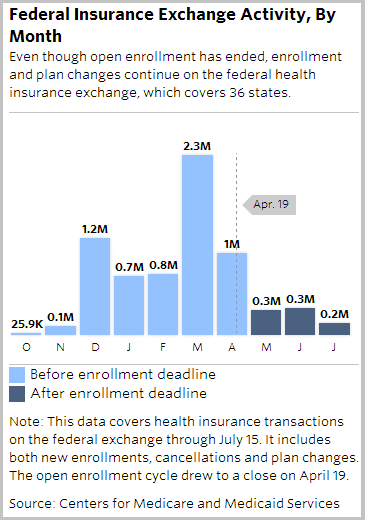 The federal data was released this week to NPR and ProPublica and covers the 36 states using the federally-run Marketplace, HealthCare.gov.
While the high off-season enrollment number has surprised many onlookers, the impact of the new figures is not yet clear. These new enrollment numbers could add to the total estimated 8 million enrollees on the state and federal Marketplaces during the first enrollment period, or offset attrition from people who signed up for coverage but never paid their premiums and dropped their health plans.
The next open enrollment period for coverage through the Health Insurance Marketplaces is from November 15, 2014 to February 15, 2015.
Click here to download the data released to ProPublica under the Freedom of Information Act.
Read more about open and special enrollment periods:
Chart Source: ProPublica.